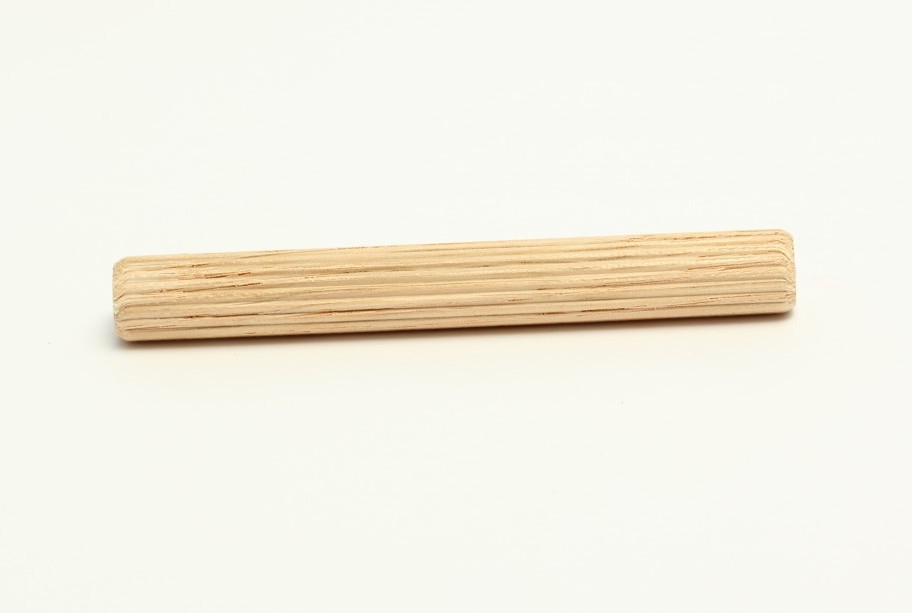 TECHNICAL DATA:
Multi grooved dowel pins is not on stock in all sizes, but can be produced in following sizes:
DIAMETER/MM:
4 mm(only plain/smooth), contact us for more information.
5 / 6 / 8 / 10 / 12  / 16.
LENGTH/MM:
From (18) 20 mm – 600 mm with 1 mm interval.
Normal lengths is 20 / 25 / 30 / 35 / 40 / 45 / 50 / 60.
TOLERANCES:
Diameter: +/-0,2 mm
Length: +/- 0,5 mm
Humidity: 8-10%
WOOD & QUALITY:
The MULTI oak wood dowel pins are sorted on our vision system.
First the wood with knots or wood where year ringdirection crosses the length of the dowel is removed.
Subsequently dowels shortened and compressed.
In this process the wood is subjected to a pressure which means that if there are any vulnerabilities in the wood, it will simply burst.
This ensures that only the best wood which comes out to our customers as dowel pins.
Our vision system ensures subsequent that all the dowel pins meet the tolerances we promise.
Vision system checks the chamfer, the length and the diameter.
6 cameras capture each 3-4 frames per millimeter, f.x the diameter of a dowel pin in 30 mm length is measured approximately 90 times on each camera, or about 540 measurements in total.
Beside this the chamfer is also controlled in the Vision system to ensure that it is consistent. If the chamfer does not live up to the demands that we have, the dowel pin will be rejected even if the diameter and the length is correct.